7 Best Battery Heated Glove Liners Review 2021- Expert Openion
---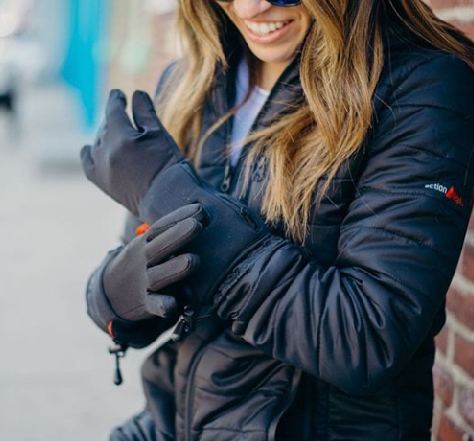 Battery heated glove liners are fashionable standalone or beneath handwarmer to complement the regular heated gloves or mittens.
Some gloves liners are battery-powered while some are made with an element that provides heating to every area of your hands including your fingertips.
Sometimes when the weather goes extremely cold, we only wished to hide our hands or placed it close to the fire if possible. But at the end of it all, we are likely to back out from the fun exercise or leave a lot of things undone.
You may be concerned about the gloves or mittens you already have, but they might not give you the desired warmth you wished due to the inability to heat the tips of your fingers.
While some might be too bulky, lack dexterity, and the fashion you tend to portray for the day.
Battery heated gloves liners are ultra-thin and may look less effective to resist cold winter breeze or moisture but they are unbelievable when wearing them.
When the weather becomes more abrasive, you only need to add on your regular ski, snowmobile, motorcycle gloves, or mitts to get the warmest feeling you could ever imagine for a winter day.
I encourage you to stick further with this review and guide to pick the best and warmest heated glove liners (Battery powered and ultra-thin) for a cozy experience.
7 Best Battery Powered Heated Gloves Liners
Here is the list of warmest battery heated glove Liners ever in 2020, they are top-quality and battery-powered for frosted hands and fingers.
1. Venture Heat Avert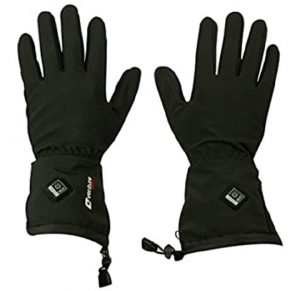 The venture is a proven manufacturer of hand warmers and also knows what it takes to combat cold. Avert is a top-quality glove liner designed with a micro-carbon fiber heating element.
The presence of the heating element will make all areas of your hand warm including an inch of the fingers. The heating capacity of this glove liner is exceptional and comes with a 7.4V rechargeable lithium-ion battery.
And also, the comforts you get is something most brands will have to catch up with, especially when used under your regular gloves or mitts.
Avert heated gloves liner is durable, and designed with water-resistance, and windproof material to keeps your hands dry from wet ice. It has a single temperature control button and three heat levels to choose from.
If there is more to know, it should be the touchscreen compatibility on the index finger and thumb that allows you to be in full control of your smart devices.
Venture heat avert is among the best motorcycle heated glove liners in the market and you will find it worth investing in if you are a lover of snow adventures like skiing, snowmobiling, climbing, or cycling.
Pros
Sorftshell fabric
Touch screen friendly
3 Temperature setting
Micro-carbon fiber heat element
Water-resistant and Windproof
Cons
Low battery life
Bulky wrist because of battery placement
2. Day Wolf
A lot of persons suffering from poor circulation of blood always find it difficult to take an active part in winter sport due to pain and fingers turning colored. With this Day Wolf heated glove liner will cast out your frustration into laughter and testimonies.
It's durable and made with 85% Lycra and 15% Elastane material. These supreme materials are supported by heating elements that cover the liner and insulation cotton.
One worthwhile aspect of this product is the odor and moisture resistance for maximum comfortability even when worn for along day.
Day wolf is a good selection to work with your thick gloves or mittens as a beneath hand warmer because of the comfort and complement the heating capacity.
While if chosen to wear alone, the ergonomic design makes it a perfect suit for any outdoor event to ensure dexterity and protect your hands.
It has a long life battery capacity that can last 6 hours. i.e 7.4-volt rechargeable lithium polymer batteries. While the wrist portion is very easy to move despite the battery installation presence on it.
The dream of operating any device with a liner remains intact because of the screen touch compatibility.
Though this product may not stand out perfectly as most marketers may claim but the effective customer's support and numerous advantages over so many products in the market made it top-notch to buy. Especially if you are suffering from arthritis or Raynaud's syndrome.
You have nothing to lose but so much to gain by casting out the cold winter breeze and numb finger from your fun day with one of the best lightweight battery heated gloves liner.
Pros
85% Lycra, 15% Elastane
Supreme material
Infrared Heating element
Odor resistance
Multiple Sports Gloves
Slim fit and perfect under any bulky gloves
Cons
No Waterproof
Not Windproof
3. Venture Delspring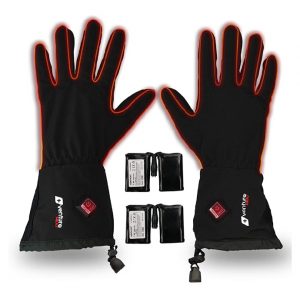 This heated liner by venture is made with carbon fiber heating elements and has a 5 hours warming capacity. It comes with two pairs of removable 7.4V rechargeable lithium-ion batteries.
The comfort of this lining glove is favorable for any health condition and it's relatively soft, suitable for a lot of outdoor activities.
Getting this brand is a sure step to stay protected from cold wind and water penetration and also you will feel an improved circulation of blood and oxygen.
It has an elastic wrist band and cuffs that allow easy adjustment to your demand. While the major guilt about this Venture brand is the difficulty to pull it off and size differs.
Nonetheless, it worth buying if you usually stay long with liners and more concerned with the heating capacity. Awesome!
Pros
Carbon Fiber Heating Elements
Improves blood and oxygen circulation
Elastic wrist band and adjustable cuffs
1 Year warranty
Wind resistant and breathable material
Cons
Difficult to pull off hand
Lacks comfort when used beneath outer shell gloves
Pricey
4. Mobile Warming 12 Volt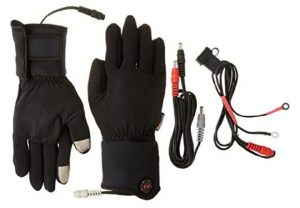 This Mobile Warming 12 Volt Heated Glove Liners is what most motorcycle ridders do prefer because of the electrical system that allows effective connection with a motorbike.
It comes with a Y-Style wire that is compatible with a mobile warming dual power jacket or vest. The comfort of this gloves liner is admirable because it allows an easy slip in and fits if you decide to wear it under your bulky gloves or mitts.
Mobile Warming 12 Volt liner has an integrated touch button that gives chance to four temperature regulator settings. And also it is compatible with smart screen devices.
However, the beauty surrounding this brand, note it doesn't come with batteries, charger, and no padded heating element on the palm like your regular motorcycle gloves.
Purchasing this brand for lining function and also excellent as stand-alone when the weather is not extremely cold.
Pros
Powered by your vehicles 12volt electrical system
Integrated touch button with four temperature settings
Touch screen compatible
Suitable under any glove
Great warmth
Cons
Doesn't come with battery and charger
Best used alongside heating jacket or motorbike
Not Windproof
5. Snow Deer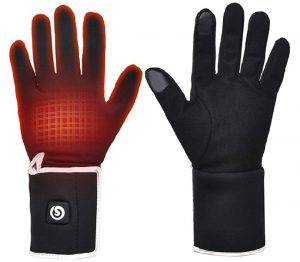 Snow Deer is top electric heating wears manufacturers, they are well known for heated gloves, heated socks, and heated hat.
This heating liner from Snow deer comes with a pair of lithium-ion rechargeable 7.4V batteries that last up to 6 hours plus on the lowest setting.
It has a 3 heating control setting and an electric heating element that cover all areas of your hand and fingers tips for maximum warmth.
This liner has an ultra-thin palm that easily fits into gloves and mittens when the cold becomes abrasive. It improves the confidence of those suffering from stiff joints and Raynaud's because it improves blood circulation.
Another good side to consider is the breathable comfort fleece, adjustable, and full wrist protection you get while wearing this liner. The index finger and thumb are sensitive fro touch screen gadgets.
However, this glove can't stand alone in very chilling weather as it is best used alongside an insulated glove or mitt. But quite fashionable for an average weather condition and one of the best thin gloves in the market.
Pros
lycra,Neoprene,Cotton, and Fleece
Infrared fiber heating elements
3 Settings Temperature Controller
Touch sensors on index finger and thumb
Breathable and Comfort
Adjustable and full protect on your wrist
Cons
No Waterproof
Not Windproof
6. Volt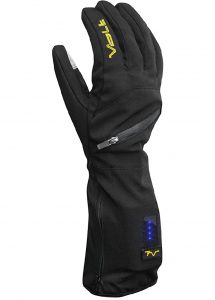 Volt is among the few brands to consider when going for heated glove liners that can send the cold packing. They are known for heating winter wear with modern technology.
It has a rechargeable battery capacity of 7 volts and a dual charger. No matter how heavy rainfall maybe you are sure of a dry hand because of the incredible waterproof material made off.
While the breathable aspect is good enough to ensure your hands don't go sweating as a result of compounded warmth. The size chat of this glove liner is quite impressive as it offers various selection.
If you are considering operating your mobile device while putting on this hand warmer, Yes volt meet up to it because of the torch tech fingertips.
No doubt, saying no to numb and frozen hands is attainable with this particular product because the heating goes all round including each of your fingers.
The thin design of this glove makes it a good choice for winter days and nights when insulated gloves aren't needed. You will be able to carry out your normal working activities as it offers great dexterity.
However, the negative aspect of this glove liner is the discomfort you will get if an attempt to used alongside other Thinsulate gloves when the cold becomes abrasive.
Pros
Waterproof and Breathable membrane
Dual charger
Touch tech finger tips
Insulated glove
Good standalone liner for cold
Cons
Heavy battery pack
Selective as liner
Low battery life
7. Hestra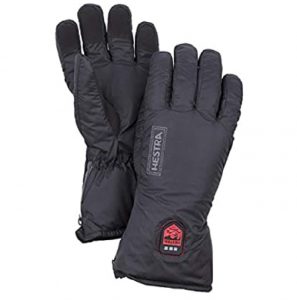 Woman liners are quite different in size because the fingers are shorter and the palm is smaller. Hestra heated glove liner is one to consider if you need something suitable size for females.
Hestra liner has integrated heating loops on fingers and comes with two pairs of rechargeable batteries. The material is 100% polyamide that proves to be an effective measure to stop the cold winter breeze and moisture penetration.
The inner shell is made with breathable fabric while the outer layer is made with durable stretch polyester. It has a three-level heating control button while the backhand is padded with heated coils for cold.
This liner will suit perfectly to heated gloves if you already have a similar product and make it warm while you wear them together.
The product is new and pricey that may not be trusted enough like the others. However, it's among the warmest battery heated glove liners available in the market because of the quality material made.
Pros
Integrated heating loops on fingers
USB Charger
100% Polyamide ripstop
Durable polyester
Windproof
Waterproof
Turn your existing Hestra gloves into electrically heated gloves
Cons
Selective liner
Pricey
No buyer's feedback
FAQs About the Best Battery Heated Glove Liners
What is heated glove liners?
Glove liners are ultra-thin lightweight gloves worn in a mild winter day or night. Some glove liner is battery powered and has a heating element.
Most heated glove liners fit snugly to the hands and fingertips and can also be worn beneath a regular winter glove or mitt when the weather becomes extremely cold.
You can't rely on a glove liners when the cold is much, they are best used as a first layer before the outer shell glove.
Heated gloves liner are fashionable, snugly fit, and have the dexterity to do your favorite activities with no issues or complacency on the bulkiness of the hand.
They are very helpful for those who engage in snow sports and adventures. To get a warmer feeling, use it beneath the outer shell gloves when going for hunting, climbing, dog walk, snowmobile, skiing, motorcycle riding, and shoveling snow because of the extra heating compartments and comfort.
What are the warmest glove liners?
Preferably liners are those that offer warmth, can stay longer, and waterproof and wind resistance. Considering the worst winter days and nights, Venture heat avert is advisable. Snow deer should be considered as a lightweight ultra-thin that fits man or woman and also easy to wear beneath any brand of outer shell gloves.
Where to buy heated glove liners?
You can simply buy a battery heated glove liners of your choice from any online outlet like Amazon, eBay, or stores near you. Simply use our recommended links to shop in Amazon and also get complete details of the products.