8 Best Insulated Waterproof Leather Work Gloves Reviewed 2020
---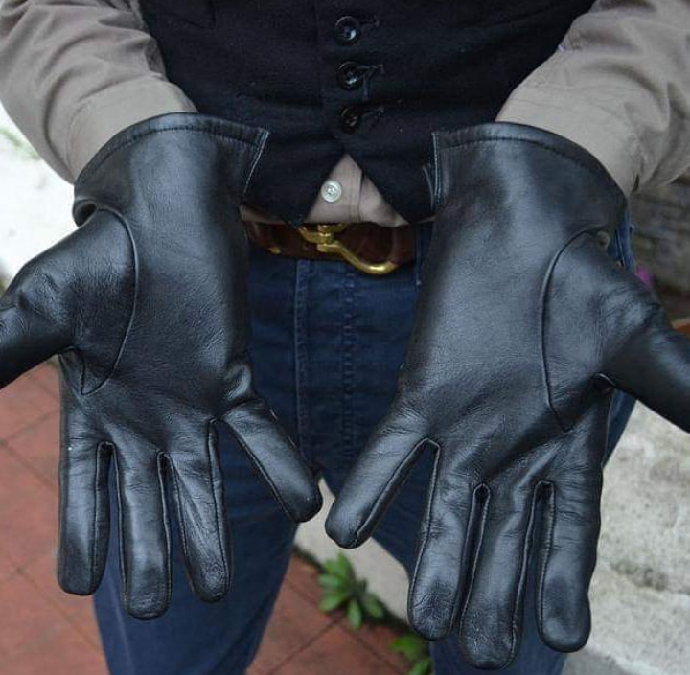 What is the best insulated waterproof leather work gloves? There are various types of leather gloves for work that are suitable for winter and summer conditions. These gloves are made with Cowhide, Pig, or Goatskin and they are durable and offer dexterity.
It all depends on how tough and rough your work is. Cowhide can stand the toughest condition, comfortable, warmest, abrasion-proof, and heat resistant than Pig or goatskin because of its thick leather. They are relatively cheap leather work gloves and quite different from the regular heated gloves.
While goatskin offers more dexterity because of its thin leather material. So if your work demands grip and dexterity, goatskin leather gloves are preferable.
Does your previous or current gloves pose some of these features, but still didn't last long before wearing off, breaking and possible got torn.
However, this article will help you make the right choice suitable for your work adventure whether been a man or a woman working in extreme cold -20c. All you simply need is a top-quality insulated leather pair of glove.
Best Insulated Waterproof Leather Work Gloves 2020 Reviews
Here are some of the best leather gloves for work with good insulation. These gloves have been selected based on comfort, insulation, and dexterity which are the utmost future to consider for a winter work glove.  Secondly, durability to ensure it lasts long and worth picking.
1. OZERO Flex Grip
Ozero is a leading handwear giant with years of professionalism. This particular pair of glove for work is made with 100% cowhide leather capable of withstanding rough terrine or brutal jobs.
It has a thickness depth of 1.0mm-1.2mm which will offer your palm great comfort with soft feeling and durable. You don't need an extra glove lining because the material is breathable, absorbs sweat, and gives you the right skin comfort.
One good future about this Ozero leather work gloves is the flexibility with moderate oil resistance, puncture, tear, cut, or breaking resistance. It comes with elastic wrists with different chat sizes for a great fit on Men and Women.
However, we know no product is perfect but the good sides of this glove are more and it's one of the best winter leather work gloves for a dirty and rough nature outdoor adventure.
Pros
100% Genuine grain cowhide
Flexible with moderate oil resistance
Reinforced palm and elastic wrists
Durable and Anti-stiff
Perfect fit for Men and Women
Great Comfort
High abrasion and Shrink resistance
Dexterity
Cons
No Adjustable band or wrist
2. Wells Lamont Men's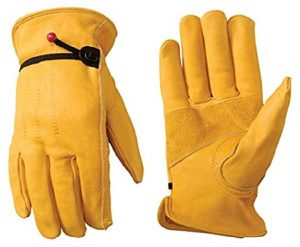 If you are a big fan of the Well Lamont brand, this pair of men's work gloves are top-quality to consider. It is made with 100% grain cowhide which is capable of resisting puncture, abrasion, and durability is sure.
It comes with an Adjustable wrist that ensures firmness to your hands while working in construction, ranching, demolition, or farming site.
The palm is made with a split cowhide patch that provides additional grip and protects your palm from blisters with maximum comfort.
Getting this pair will prove a great investment for you as it can also serve numerous tasks. It is one of the best heavy-duty work gloves in summer or winter.
Pros
100% Genuine grain cowhide
High abrasion & puncture resistance
Adjustable Wrist
Perfect fit for Men
Water Resistant and Comfort
Dexterity
Suitable for construction and demolition
3. Wells Lamont Women's Water-Resistant Leather Work Gloves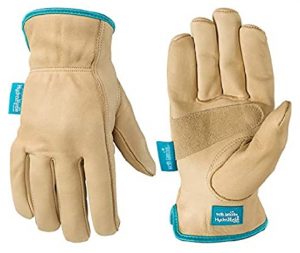 Woman's work gloves are a little bit different in size and design. This pair of leather gloves for women is water resistance capable of keeping moisture out and dry feeling on a rainy workday.
The palm is designed with a split cowhide patch for overall wear, additional grip, and long life span of the glove.
This pair is suitable for women who are into rough and tedious work like demolition, construction, DIY projects, or Ranching. They are perfect fit and relatively cheap leather work gloves for you.
Pros
Water Resistant
High abrasion & puncture resistance
Elastic Wrist
HydraHyde leather
Durable and Comfort
Dexterity
Suitable for construction and demolition
4. Carhartt Men's Suede Work Glove with Safety Cuff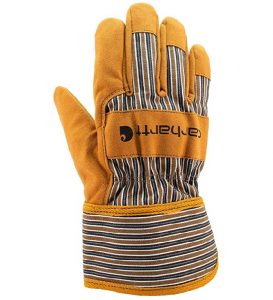 Carhartt is a prominent hand gear brand know for quality and durability. The Suede work glove for men is top-notch to think of, it is made with 100% leather and has an interior lining of 100% polyester material for breathable comfort and durability.
While the wrist is designed with pull on closure for easy wear in and out. The knuckles are padded with suede cowhide for protection and protection.
If you are looking for insulated work gloves with lightweight, Carhartt is best because of the thin design and traps heat for an extreme cold weather condition below 20 degrees.
Pros
100% Leather
100% Polyester Lining
Pull On closure
Hand Wash
Durable and Comfort
High Dexterity
Durable cotton duck with suede cowhide palm and palm patch
Cons
No Waterproof
No Insulation
5. Tuff Mate Gloves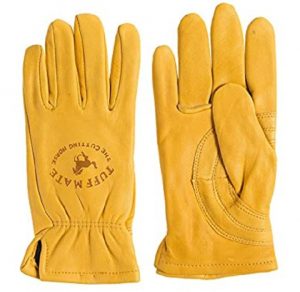 If you are into horse grooming or looking for a quality glove for horse riding, Tuff Mate is durable and suitable. This pair of work gloves made with grain goatskin leather material with an elastic waist.
It is simply for protection against any element and keeps your hand warm on a winter condition. One amazing aspect of this ridding gloves is the soft and tender feel it offers your hand. However, before purchasing this product, kindly pay attention to the size because not everyone gets size as measured.
Pros
Grain Goatskin leather
Elastic Wrist
Hand Warm
Durable and Comfort
High Dexterity for driving
Cons
No Waterproof
Not for rough adventure
6. West Chester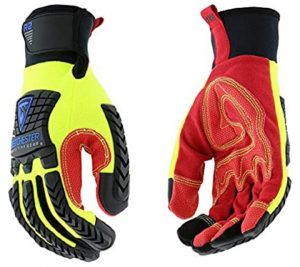 If you are looking for heavy-duty work gloves with better protection, West Chester is among the few companies that manufacture such. This pair is made with silicone pattern hand while the knuckles are padded to protect you from bumps and bruises.
The palm is oil resistant which provides excellent grip on a wet usage and also the multi-colored material is a good fit for those controlling traffic. It a trusted hand wears for oil rigging, mechanical, farming, automotive, electrical, HVAC, and plumbing gloves.
Pros
Synthetic leather
Durable and Comfort
Spandex Material
High Dexterity
Touchscreen Index Finger
Cons
Pricey
Low Quality Material
7. Better Grip Premium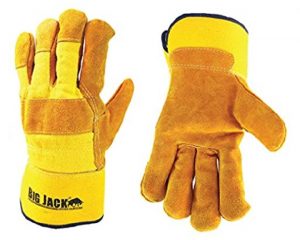 Better Grip is one of the best-insulated winter work gloves made with cowhide leather material. It has a wing thumb that guarantees comfort in open-handed work. While the cuff is designed with rubber fabric which provides your wrist great protection and easy removal.
It is a waterproof glove and good for extreme cold weather which makes it a recommendable brand for rough winter adventure.
Pros
Split Cowhide Material
Durable and Comfort
Water Resistance
Insulated
Cheap
Cons
Low Dexterity
No Adjustable Wist
8. Mechanix Wear: DuraHide FastFit Leather Work Gloves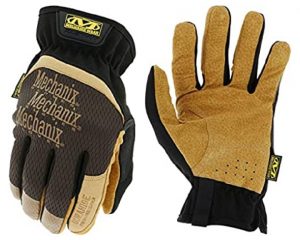 These Mechanix hand gloves are suitable for woodwork or those working in a sawmill because of the flexible thermoplastic rubber which offers great protection for your wrist and stays comfortable throughout the workday.
While the back of the hand is made with breathable TrekDry that keeps you cool and comfortable while working. It is fully designed with genuine leather which gives you extreme abrasion resistance that increases your working confidence.
The palm is built with D30 padding to resist shock and vibration which makes it top drilling, carpentry, steel cutting, and sawing winter gloves.
Pros
Comfortable stretch elastic cuff
Durable and Comfort
DuraHide leather palm
Abrasion Resistance
Elastic Closure
Cons
Not for rough adventure
No Waterproof
Bonus Pick for you as they are also cheap leather work gloves that come in bulk and less than $3 USD per pair and durable.
1. Azusa Safety Natural Leather (Pack of 96 pairs)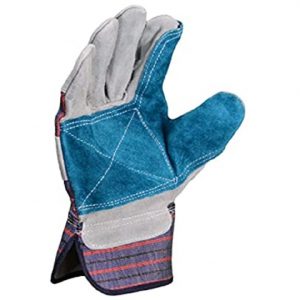 If you are in need of general or work gloves for demanding jobs, Azusa Safety S96112 fits the task. It is made with cow split leather material with reinforced palm and knuckle.
While the cuff is a rubber that gives you comfort. This pair of Azusa Safety is suitable for jobs in the manufacturing industry, farming, construction, framing, and more demanding jobs.
You can select your size and color design you want as it comes in a pack of 96 pairs. Getting these gloves will be a great investment and they are lightweight gloves.
Pros
Pack of 96 pairs
Durable for construction
Comfort
Cheap
Cons
No Adjustable Wrist
Limited Uses
2. CLC Custom Leathercraft 12 Pair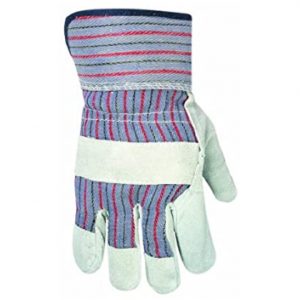 These gloves are made of 70% leather and 30% cotton flexible materials. They come 12 pairs and are suitable for heavy-duty and rough adventure.
The palm has a split leather that provides additional grip strength holding tools and pushing a wheelbarrow. CLC custom is the best work gloves for gardening and yard work.
However, much shouldn't be relied on these pairs of working gloves as they are made for just protection against blisters and hand wearing off. Because they can't stand extreme cold conditions and not gloves that can be used over time without wearing off.
Pros
Pack of 12 pairs
Durable for construction and Farm work
Comfort
Cheap
Cons
No Adjustable Wrist
Limited Uses
Buyer's Guide and FAQs
Are leather gloves good for winter?
Leather gloves are essential choices for winter season if your work is rough and tough because it offers windproof, dexterity, durability, and toughness. While some are also soft and offer comfort.
How to waterproof leather work gloves?
You can make your leather gloves waterproof and ready for winter by applying Obenauf's Heavy Duty LP Leather Conditioner Natural Oil Beeswax Formula (8oz).
This Obenauf's Heavy Duty LP Leather Conditioner cream has real beeswax and plant oils designed to melt when spread on your gloves by hand.
It contains repels acids for maximum waterproof and it is complete leather care proven to resist mold, bacterial, scuffing, stitch tear, and cracking.
So you can outrightly make your winter leather gloves waterproof if you still find your current ones useful but lack water repellent capacity.
What is the best leather for work gloves?
Gloves made with cowhide or goatskin material offer more dexterity and tend to stand out in tough and difficult working conditions compared to polyester gloves. The best leather work gloves should definitely protect your hands from abrasion, impact, cold, and must be breathable. Dexterity is another great factor to look into for work gloves.
If considering the best between goatskin and cowhide, both are of great importance in the working environment because of their durability.
Goatskin leather work gloves offer more dexterity when such is needed because the leather is thin. While work gloves made with cowhide leather is stronger, fit for rough and tough outdoor activities because the material is thickened. However, getting the best has to do with the nature of your work if dexterity or the level of impact on your palm.
How to clean leather work gloves
How leather work gloves have to be wash carefully. Simply brush off grime and dirt with a soft brush to avoid braking. While if the gloves are so dirty, clean with cold water and bath soap and hand them on a line for the water to drip out and dry off.
Final Thought
I am glad you have gone through the list and buyer's guide and I hope you will be able to make the right decision on your choice of leather work gloves. Ensure you place the level of dexterity your work demands, and also the roughness, toughness, and size. Because all these are big factors to consider.
Secondly, lightweight leather gloves that offer good insulation and breathable are better off if your work demands many hours of work. Meanwhile, we know there is no perfect product, but some are better off.
However, you can also read through articles on warm winter gloves and feel free to shoot me a message or dropping a comment below for more clarity.