10 Best Goalkeeper Gloves 2021 Review
---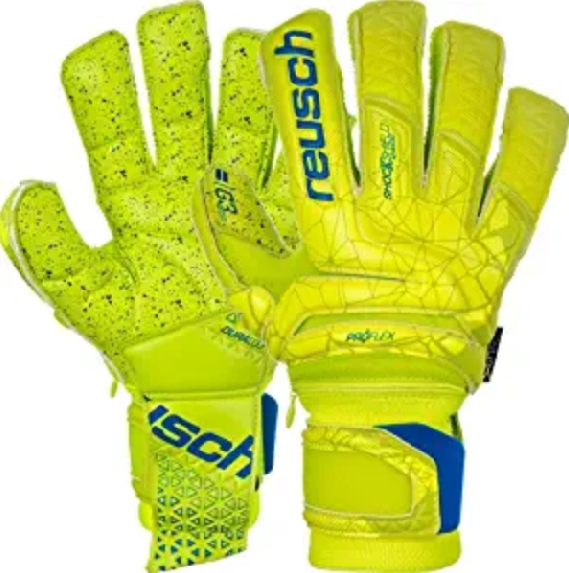 I will guide you on choosing the best goalkeeper gloves suitable for tuff or hard ground. Read On!
The last man on the line of defense in a football playing formation is the goalkeeper. The position demands extra care, right judgment, concentration, and notable of all is confidence.
If you are one of the last men in defense of your team, you need a pair of the best soccer goalie gloves to enhance your performance whether you get involved in astroturf or hard ground. The most durable goalkeeper gloves need to have good grip design and finger protection.
Meanwhile, Let's know some basic features before choosing your next gloves for goalkeeping functions.
Features Of Top Quality Goalkeeper Gloves.
Before I go on with some key attributes to look our for, free your thoughts from the big football brands like Nike, Adidas, Umbro, Puma, and co.
Note, these brands mentioned are equally top gloves brand for goalies but they are arguably expensive compared to what some other smaller gloves specialist can also offer for a cheaper price.
Though some of the big brands with great protection for outdoor and are among the list you will get to see as you read on. Notwithstanding the GK glove of your choice, check for the following characteristics.
Performance
The performance of your goalkeeping gloves has so much to do with the kind of materials and pattern of attaching them. They are mostly manufactured with latex and cuts patterns.
Latex palm design affects the level of grip and control you have on the ball, so this turns out to be one of the most important characteristics to consider for your gloves. While the cut pattern is the stitching lines between the latex palms and backhand materials.
Your gloves cut determine the level of comfort, feeling, and flexibility you get off the ball.
Comfort and Durable
Though the level of comfort varies from goalkeepers. Some prefer a specific brand because of cuts. However, most premium gloves are durable and made with soft materials, more padded, and top-quality liner within to ensure breathable.
Still, you may find it difficult to get an exact fit for your hands. But I encourage you to check your friends' own and take a good look at feedbacks from past buyers.
Cost Efficiency
The efficiency of any gloves relatively relies on performance, comfort, and durability. We all know new brands and innovations are regularly introduced as new season steps in. But know that there are likely similar to the previous ones.
While some are over-priced with little upgrade in performance which may only be needed at the top level of soccer and not for a beginner.
You can get some cheap and valuable brands like Nike FA16's for amateur age grade or local soccer activities because I usually recommend an average of $30-60 price range.
Gloves for goalkeepers withing such range are considerate in performance though they are made from weak materials, flat padding, and offer weak griping.
They are likely to worn out by ripping off after little time of usage and they are easily available in a sports shop near you.
If your budget is good and you intend to go for superb quality goalkeeping gloves for long-lasting performance, you have to put every other doubt behind you and go for products like Reuch Supreme G3 Fusion and Predator Adidas Ultimate Fingersave.
List of Best 10 Recommended Gloves for Goalkeepers
Here are some of the best goalkeepers gloves with finger protection considering the above features discussed above.
1. Reusch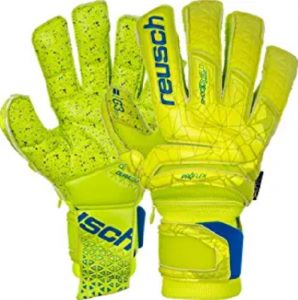 Reusch Fit Control with G3 fusion foam palm is quit an impressive performer. This goalkeeper glove is made by a reputable German engineering company that understands the round leather game.
One good aspect to let you know is the improved grip it offers when you are on the ball. The backhand, thumb, fingers are fully protected with well-padded ORTHO-TEC protection.
This goalie pair of glove offers great flexibility and extra protection when punching the ball due to the presence of a shock shield advanced.
Its made with mesh material which ensures extra breathability and comfort of your hands. It has a long elastic cuff that offers a great fit and the same time a lightweight glove that absorbed the maximum shock.
However, the only downside side with a little bit of concern is the price especially if you are on a tight budget. But without any doubt, Reusch G3 is one of the most durable and best goalkeeper gloves you can find in the market. Personally, if you need something of real quality, go for it because it worth it.
Pros
G3 Fusion foam
ORTHO-TEC Protection
Airvent system
Shock shield advanced technology
Flexible and Wilder wrist bandage
2. Uhlsport Radar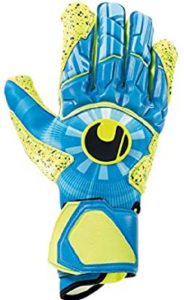 For those who are so connected with brand and love for their hero, this Uhlsport Radar goalkeeper pair of gloves is perfect for you because of top-rated goalie who currently saves with this brand.
It is built with a classical innovation coupled with a super grip form and goog gripping element. The material is a mix of latex and neoprene that gives the best flexibility and comfort.
With this brand, be very confident it will put shock our of your game because of the 3D embossing shock zone. It offers great fit due to the innovative cut with wraps on the thumb forefinger and minds you with the good breathability you get.
One other good side of this pair of gloves is the flexible bandage made of neoprene with lycra insert that allows you to wear very fast and easy. However, the negative side of this product is the lycra material that tends to be allergic to some people.
Notwithstanding any doubt, the lycra allergy doesn't stop you from getting this top quality goalkeeping gloves because only some people are allergic to it. Go for quality and brand if you're not one of them.
Pros
Super grip
Breathable
3D embossing shock zone
Flexible neoprene bandage
Great fit
Semi-elastic full latex strap
Cons
Lycra, allergic to some people
3. Renegade GK Triton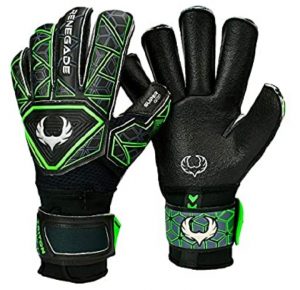 Renegade GK Triton Raider is among the top quality Goalie Gloves to trust. It has a Pro-Tek Fingersaves that gives you adequate performance on the ball. If you are conversant with the United States soccer league, you will notice Renegade as the official goalkeeper glove for NPSL and WPSL just to tell you the level of trust it has gain.
The grip and control performance is a die is highly recommendable and one to reckon with due to the German super grip latex specifically for hard ground.
Its thumb has a pre-arched design with a 180-degree wrap that improves grip on ball control and extra confidence. While the safety protection is made of 3.5 plus 3MM composite latex palm with a padded backhand for extra impact.
The wrist strap of this glove is something admirable as it offers maximum support, made with 8CM Airprene cuff and 3MM 360-degree duratek strap.
This brand is known for comfort regardless of the play level while it has great breathability because of the Triton's 3D Airmesh.
Though the built may look difficult to pull off your hands, far easier than what a lot of persons thought due to the nylon strap that allows free wearing and pulling off. However, Renegade offers cheap but one of the best goalie gloves you can trust.
Pros
3D Airmesh Body
DuraTek 4+2MM Latex Backhand
Durability and Comfort
Endo-Tek Pro Fingersaves
Internal Silicone Grips
Extended Palm
Breathaprene with Elastic Slit + 6CM Pro-Strap
Cons
Fairly solid goalie gloves
4. Storelli ExoShield Gladiator Pro 2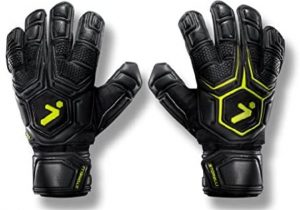 Storelli is a sporting brand know for her expertise when it comes to gears. ExoShield Gladiator Legend 2 is one of the best goalie gloves manufactured by the brand.
Storelli ExoShield Gladiator Legend 2 is specially designed for professional goalkeepers who demand heavy-duty grip and impact protection.
Comfort and durability are among the top quality features with this pair with the body made with Nylon, Spandex foam, and Urethane foam.
The highest grade of German latex that gives extra grip is used and it is known to be used by top-level professionals.
This particular ExoShield Gladiator glove comes with removable finger spines that mitigate the chances of injuries and also allow customization. Though you can also go for the 2.0 without finger saves if you wish.
It has a negative cut with extra latex on the thumb that offers extra protection and a textured polybutylene punch zones for further security and control.
Also, a premium glove bag is not left out just like every other goalie gloves that come with it. Note, it has various sizes that you are to make a selection from and unisex in fashion.
Pros
Highest grade German latex
Excellent grip performance
Heavy duty impact protection
Removable finger saves for protection
Negative cut
Top quality material
Cons
Light drizzle that may not be suitable for wet condition
Pricey